Renee Danette (Petrola) | Teacher (Retired) — Mount Sinai School District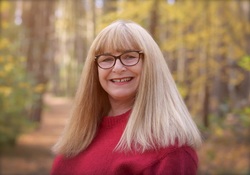 For Renee Danette (Petrola), teaching is a talent that has been passed down to her through her lineage, and she is proud to help the students in the Mount Sinai School District learn to become inspired writers who are enthusiastic about their work. Ms. Danette manages an intensive creative- and research-writing program for the District, and works with sixth-grade students on the development and enhancement of their writing skills. Ms. Danette is an award-winning educator whose mother also served as a teacher; her involvement in the District as an educator is all-embracing, as she currently serves as a conflict mediator, and supports the involvement of students in competitive writing and poetry contests. Additionally, Ms. Danette guided fifth-grade students toward delving into ecological studies through an outdoor learning laboratory by researching the impact of humankind upon the environment. Her focus is primarily on students' capabilities to gauge an understanding of literature, writing and computers and desktop publishing applications, including Smart Boards.

Ms. Danette helps the children with whom she works to discover their resourcefulness and creativity by writing. She assists students in utilizing and enhancing their Internet and technical communication skills, and by offering them solutions that can help them overcome issues. She is devoted to helping students to become exemplary writers who understand the importance and key elements of literature. Ms. Danette is a member of the Mount Sinai Teachers Association, the National Education Association and the American Federation of Teachers.


---

At a Glance

Renee Danette (Petrola)

has maintained a long-standing passion for teaching children to become proficient at learning creative writing skills and literature analysis abilities. As the child of a teacher, Ms. Danette has gained knowledge of key elements which affect learning, and she utilizes them in her current capacity as an educator. Her passion, listening and observational aptitude allows her to work very well with her students, and adapt to their learning styles. In working as a conflict mediator and combining her experience as a counselor, Ms. Danette is able to fully understand the necessities of her students. She taught swimming lessons and also taught writing classes; one of her students placed first for writing an anthology in the Walt Whitman poetry contest. Ms. Danette is involved in the local parent-teacher association and was one of four pioneer teachers working in an outdoor learning laboratory with fifth-grade students.

Aside from teaching, she is also an accomplished author who published three poetry books. Ms. Danette's first book, "Woman on the Edge of Time," was self-published. Her second book, "Primitive Dancer," was published by Book Stand Publishing, and her third book, "The Healing Tree," is published by Book Stand Publishing. They are available on www.amazon.com and Barnes and Noble.

Ms. Danette earned a Master's Degree in Liberal Studies from Stony Brook University, and she supports worthy causes throughout her community such as beach cleanups. She also supports the American Cancer Society's Relay for Life and the American Society for the Prevention of Cruelty to Animals. Ms. Danette is an equally wholehearted educator and writer who hopes to have her works published in the foreseeable future. She enjoys writing, designing jewelry, swimming, kayaking, spending time at the beach, riding her bike and running in her spare time.